Mini Marcos Mk. 3, 7056, 43906-H (Victoria, AUS) Owner: Steve Schmidt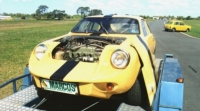 Steve writes "When last registered for road use in Queensland, Australia the registration number was MARCOS. (left) It previously belonged to Matt Read (and prior to that Matt's father Jack Read), from Brisbane, Queensland."

Apparently Jack Read is something of a legend in Queensland and Matt is a Mini specialist. His web site is: www.miniman.com.au.

Update: Steve has now (August 2014) completed the restoration and it looks superb in these new photos.

Thanks to Steve Schmidt, Matt Read, Paul Wilkinson and Chris Logan for the information.
Photos S. Schmidt
---
Last updated 20th August, 2014