Search Results
| | |
| --- | --- |
| Pages: 1 | Showing 1 - 10 (10 found out of 10 possible) |
Any luck contacting malcolm Fell ? would be interested in knowing you have more info on your car.
Has anyone fitted an antiroll bar to the rear of a jem if so what are the pros and cons and which one is recommended, i hill climb my jem and i am thinking of fitted one.
So what dimension should the inner drive cable be, from the nipple to the end, in order to drive the speedo head. Any ideas?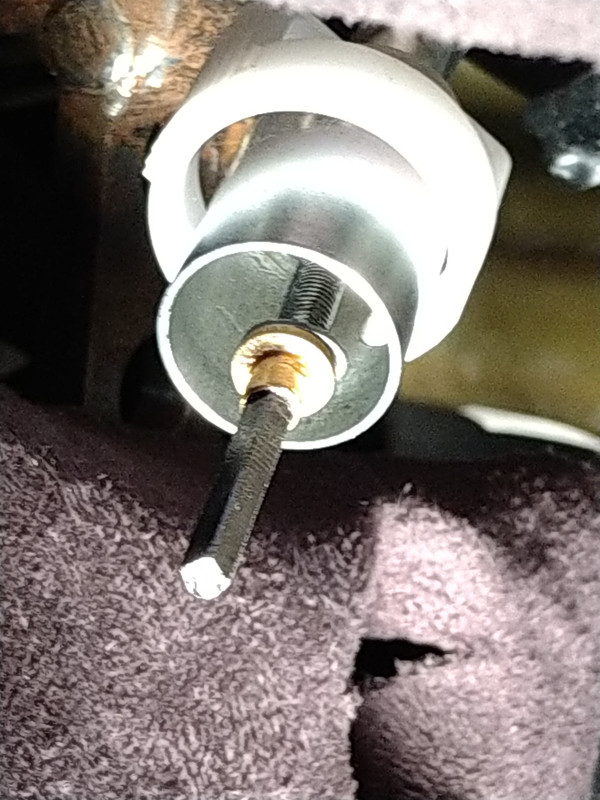 It doesn't leak! At least it doesn't appear to with half a tank of fuel in it.
In other news - the speedo cable turns but when connected to the speedo head, it doesn't drive the speedo needle. This could mean the speedo head is U/S, or that the piece of the cable which engages into it isn't long enough. Does anyone know if it's possible to withdraw the inner from the outer, leaving the outer in place and then safely reinsert an inner?
If this is possible I'll have a longer inner made. Or is there a test I can do on the head unit itself?
As part of checking the tank, I ran the car up to temperature. While only idling, the fan cut in with the needle recording about 3/4 (mid way between mid point and red line), cooling as it should, stopping again when the gauge was at the mid point
Well - that was a palaver!
This is the stuff I've used:


I cleaned off the RTV sealant used prior to the rolling road session as best I could before putting a skim of this stuff around the edges.  I replaced the cross head screws (one at a time) with the hex head screws and the washers bought from Minispares and sourced some tiny o-rings from a local motor factor.  But trying to get the screws back in to the holes when all they wantewd to do was stick to my nitrile gloves was interesting.
Given the space above/around the rear subframe and the spare wheel well, I could fit a socket in place with a screwdriver attachment but couldn't hold the screwdriver as you normally would, in the palm of your hand and had to try and tighten the screws up using my finger tips on the screwdriver (if that makes sense).  So with that lack of feeling I hope a) I've done these up tight enough and b) perversely, haven't done them up so tight that I've stretched/started to strip the threads!
I put a coat of the sealant over the screw heads once tightened:


I did this yesterday and checking it this afternoon, the sealant has set 'tacky', as it's meant to do.  But I'm wondering if I should now cover this with a coat of RTV =- what do we think?
I'm away for a few days through this week so won't put petrol in until end of next week/next weekend (so that I'm around if it does leak and I can syphon any petrol out if it does) but I'm getting a little anxious about this - if it doesn't seal I'll have to take the tank out, and I really don't fancy doing that.

ETA - When I took the crosshead screws out there was a flat washer underneath.  I don't remember these being part of the kit, and they do look like the small washers I have so think I may have put these in as good engineering practise, to spread the load.  But if I have fitted these it does beg the question as to whether I'm going to be able to get a seal.
Thanks Neil.
Washers and screws now received, sealant ordered (Hylomar Hylotyte though) so I'll look to have a crack at this next weekend.
I need to update my 'to do' board in the garage:
- Lambda,
- Radiator/fan,
- Throttle cable
- Speedo cable
I'm sure there's something else I've forgotten (this is why I write things down!)
Original screws are 8/32" x 1/2"UNC. I'm afraid I can't remember if I retapped them to metric though.

I used Dirko Sealant.

Screw - Washer - sealant - O-ring - sealant - Sender Unit - sealant - gasket - sealant - tank.

The Hex Head just allows you to use an allen key rather than a screwdriver , an angle grinder can shorten it easily idf needs be.
Thanks for the link Craig - don't now why I could see that.  I'm a little surprised that I haven't heard of this van tank leaking problem before (although I've never owned a vehicle that's used this tank to be fair, but would've thought it would've been 'advertised' when I bought the tank kit.
The link helpfully shows some standard hex head screws too, so I've ordered these too.

Neil - I'm guessing socket head screws might have a smaller head diameter, therefore could possibly fit in the gap available easier.  I might yet need to get my hands on these if I can't get the hex heads in place - do you know the thread details (Minispares doesn't give this info)?
Do you recall what type of sealant you used (petrol resistant)?
And for clarity - you fitted the rubber O-ring tank side of washer (washer in contact with the screw head)?

Thanks both - I'll definitely be trying this as a solution before I do anything drastic like dropping the tank.  I've syphoned the tank as much as I can so will clean up the sender unit before resealing/replacing screws and see if it safely solves the problem.
Final result.
Fuel leak from the sender unit is very common but can be a bugger to sort. I ran in to it myself a few years back even though everything I was using was new (tank/gaskets/sender unit etc.).
After many attempts , the combination that finally worked for me was.

1. I changed the screws for Stainless Steel Cheese Head Hex Socket bolts. This makes the access issues much more simple as it does away with need for screwdrivers.
2. I added a washer and a rubber O ring to each bolt, the rubber compresses and reduces the chances of fuel seeping past the bolts.
3. I used a good quality gasket cement and copious amounts of it, on both sides of the cork gasket and under the O rings and Washers.
| | |
| --- | --- |
| Pages: 1 | Showing 1 - 10 (10 found out of 10 possible) |