Books
The Story of a Great British Sportscar
Cedar Publishing ISBN 0 9517002 9 4, 156pp, £22.50
David Barber's light-hearted account of Jem Marsh - the man and his machines includes a sizeable chapter on the Mini Marcos and its exploits and is a very good read.

Marcos Coupés and Spyders Gold Portfolio 1960-1997
Brooklands Books ISBN 1 85520 3979, 172pp
Compiled by R. M. Clarke, this is a fully updated version of Brooklands Books's earlier "Marcos Cars 1960-1988" road test book. This is a compilation of magazine articles including road tests, reviews and technical articles. The Marcos story was brought up to date (in 1997) with items on the LM cars and the new Mantis as well as the Mk.V Mini Marcos 1300i.
We are no longer stocking this book but it may still be available from specialist booksellers.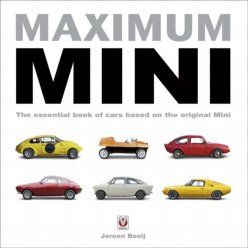 Maximum Mini
by Jeroen Booij, Veloce Publishing Ltd., ISBN 978-1-84584-154-6
The essential book of cars based on the original Mini. See review.
Club price £16.50.
Maximum Mini 2
by Jeroen Booij, Booij Books, ISBN 978-90-9028192-6
The second book of cars based on the original Mini. See review.
Price £24.95.
Specialsit Sportscars
by Richard Heseltine, Haynes Publishing, ISBN 978-1-85960-690-3, 152pp
The Good, the Bad and the Ugly of a Very British Breed.
Price £19.99
Books are available from the Publications Officer. UK postage is £4.25. Overseas postage is more. There may be some special deals for members at shows supported by the club.
RAC Homologation Papers
Copy of the RAC Homologation Papers for Mini Marcos Mk. III. £2.50 post paid.
Technical Manual (CD-R)
The Mini Marcos Technical Manual is available from John Dickens on CD-R, price £2.00 post paid (EUR 3.00, USD 4.00). Printed copies will be available to special order and at extra cost. The contents are in Microdoft Word™ format. You will need Microsoft Word, Word Reader for Windows, OpenOffice.org or software capable of importing Word files on other platforms. Club Members can download the manual in Portable Document Format (PDF) from the Members' Area of the web site.
Contents

A -
Engine
B -
Cooling System
C -
Fuel and
Exhaust System
D -
Ignition System
E -
Clutch
F -
Gearbox and
Differential
G -
Drive shafts and
universal joints
H -
Braking System
I -
Electrical System
J -
Suspension and
Steering
K -
Bodywork and
Fittings
L -
Additional Information
Video DVDs
Making My Marque
Interview with Jem Marsh after the 50th anniversary of Marcos
Produced in 2010 by Paul Sutton (58 mins).
£10.00 (UK), £11.00 (Europe), £12.00 (World).
This Time Tomorrow
The story of the 1966 Le Mans 24-hour endurance race on video contains only a few glimpses of the Mini Marcos but is an interesting record of the race which saw the marque's most famous achievement.
We no longer stock this item owing to low demand following the price hike when distribution passed to Duke Video from whom it can be obtained directly. Tel. +44 (0) 1624- 623634 (voice) or 629745 (fax).
MMOC Magazine Back Numbers
The following back numbers are currently available to club members:
35 - 37, 39, 44 - 48, 50 onwards.
Sale!
For a limited period the price is £1.00 for one or £5.00 for six, post paid to UK addresses. Overseas postage will cost a bit more. Deals can be done for larger orders or "Binder Bundles". Please discuss your requirements with the Publications Officer
See Magazine Contents.
Magazine Binder
Red, holds 12 issues - £4.50 post paid.
---